31/08/2021 // Alan James Creative Bursary + Residency

We're excited to announce that we're one of the recipients of the
Alan James Creative Bursary and Residency Programme,
awarded by the English Folk Dance and Song Society.
The programme supports artists in exploring new creative ideas inspired by and sourced from traditional English folk music, without the pressure of a final product.
We'll be heading into Cecil Sharp House in September to spend a week researching queer folk music in the Vaughan Williams Memorial Library/EFDSS archives.
The other 5 bursary recipients are Lisa Heywood, Angeline Morrison, You Are Wolf, Madame Ceski, and Quentin Budworth. They all have some amazing projects lined up and it's great to be on the programme with them! You can read more about their plans
here
.
Subscribe to our
mailing list
to find out how we get on during our residency, and to be the first to hear about any new music or live shows.
We're extremely grateful to EFDSS for their support, and we can't wait to get started on this project and share some queer folk music with you!
Sophie and George x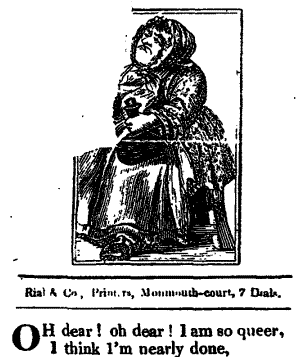 Illustration from a ballad sheet
via
Broadside Ballads Online